BETH | BETTY | BIG MOMMA | BJ | BODACIOUS | BONER | BRANDY | BUTTERCUP | CHAOS | FISHBONE | HAUS | KABANG | MAX | NITRO | PONY | RIPPY | SCOUT | BRUNO | GRETCHEN | CHERRYBOMB | CHAMPION BARBIE | CHAMPION JEWEL | CHAMPION PUMPKIN | FIREFLY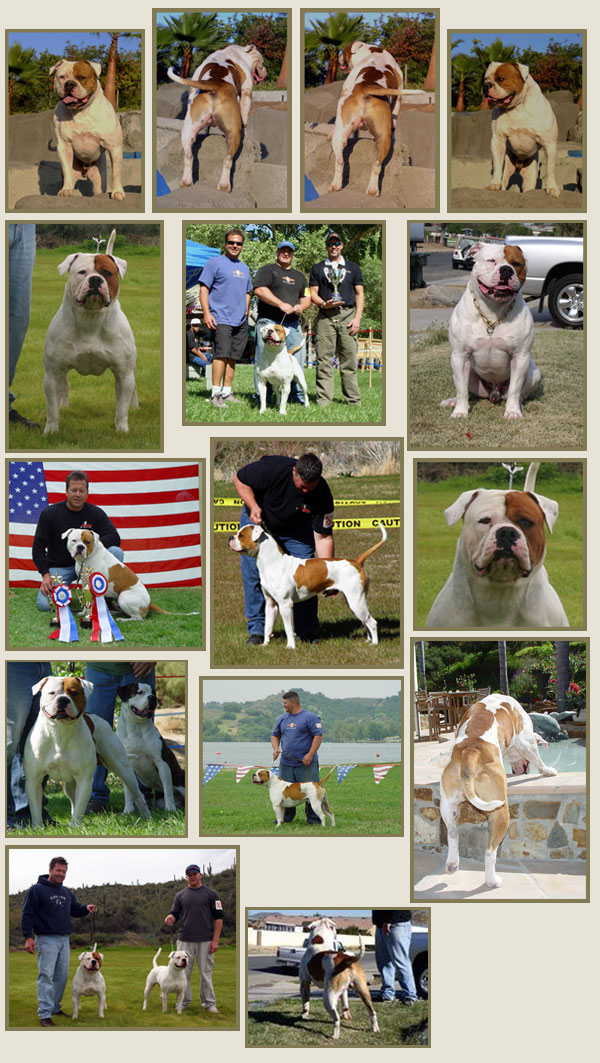 Click on pictures to enlarge
ABA CH Mr Bruno is out of Bybees ABA Ch Bodacious and Bybees Pony (AKA Big Daddy Love Bone) you can check them both out on our foundation page. Mr Bruno was produced by us and is promoted by us but is owned by our good friend Greg Williams.
Randee showed Bruno showed under 8 different ABA judges and got 6 BIS he finished his championship at the 2005 ABA Nationals where he got another BIS..this time we had Greg show him and he did great! Mr Bruno was ph at 1 year old and came back with a .3/.3!! no djd. We are very proud of producing Bruno he is a 4th generation from our breeding program. We would also like to thank Greg for taking such good care of Bruno and for letting us drag them both out to all the shows!

We would like to add we do NOT endorse Love-Ab Bulls american bulldogs!
WE DO NOT BREED 1/2 SIBLINGS to each other, sure the pups look cute (what pups don't!) but later on the problems show.. Bruno has been tightly inbred before (not by us)and the results were not successful.Good luck if you think you know more then we do about OUR line of dogs! lol!
You can check out several of CH Mr Brunos siblings and 1/2 siblings ...
ABA Ch Bybees Willow
Matt Letholt's Beth of Bybee multiple BIS winning 2004 and 2005 at the Nationals in Vegas and Arizona ..now an ABA CH and has won BIS at ABNA shows and NKC shows
Bybees Fly
Bybees Jack Tatum 1/2 brother multiple BIS

Bybees Cherrybomb

Bybees Huckleberry, Multiple BIS

Bybees Haus , multiple BIS

Bybees JB's Combat Barbie , multiple BIS