WELCOME
TO OUR OUR NEW REHOMING/RESCUE PAGE
Last updated January 28, 2017

I get a lot of people calling me and asking me to help place dogs in homes, and although we are not a licensed rescue of any type I know with as much traffic as we get to our web site that I can help match up American Bulldog's that are looking for new families..
I have had lot's of luck in doing this before.
If you are in need of a rescue please google "american bulldog rescues" in your area..
I also have some on my links page.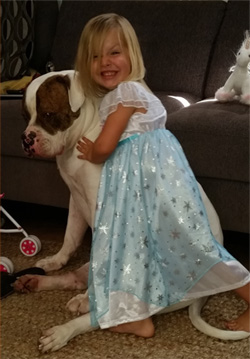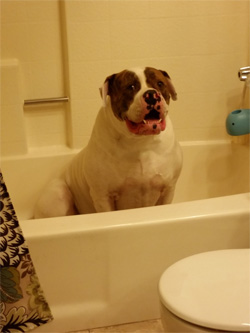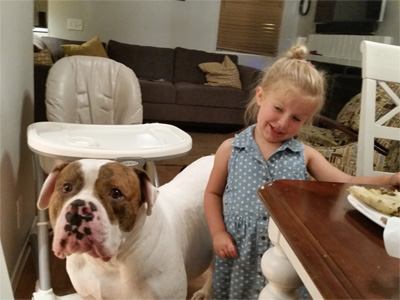 ODIN is a BIG beautiful male dog from Hercules X Koa looking for a new family home..approx 130lbs+
HE IS NEUTERED!
He is 4 years old.
He is an indoor outdoor dog and uses a doggy door..knows basic commands sit, stay, down and stays off furniture.
He is part of a family and was raised with there young daughter who he loves ..now however lots of young children make him anxious especially those that are nervous..which most are as he is very big!
His family thinks he would be happier in a family with no small children who are confident around American Bulldogs or other big breeds.
He has a few dog friends in his neighborhood too. As with people, he prefers dogs that are confident and friendly.
WE ARE LOOKING TO PLACE HIM LOCALLY... UNLESS YOUR SOMEONE WE KNOW..he currently resides in San Diego California.
Please contact Jerica 619-93333901 or myself Alison 951-3612634 bybeesambulls@aol.com




"Easton has found a forever home with Todd.. thank you Todd"
American Bulldog
just turned 3 years 10/16/10
Betty X Jack
fixed male
Weight: 123 lbs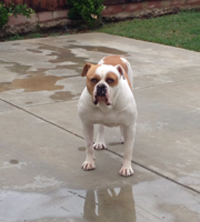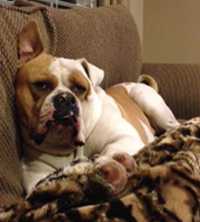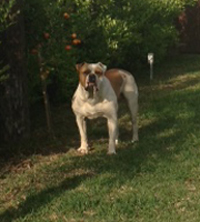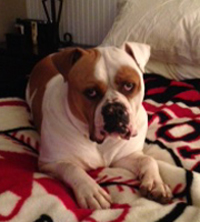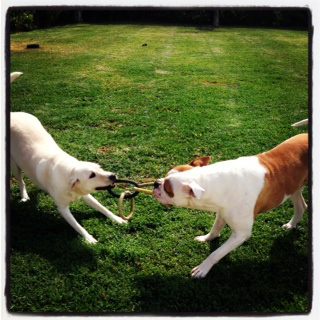 Hi everyone, I have a beautiful happy BIG 123lb white with red patches male adult ab looking for a new forever home..
Easton lives in La with his family he is neutered, house trained, crate trained likes car rides and likes other dogs (he has a female companion lab)..not sure how he would be with intact dominant males though.
Easton likes children and is currently around a 1 year old baby.
Easton enjoys sleeping on the couch and watching tv with you and long romantic walks as well (told you he was perfect)!
Eastons owners are looking for a new forever home for him where more time can be spent with him as now sadly they feel they can't give him the time and attention he needs.
Easton is not at risk of ending up at the shelter (that would never happen) so don't worry about that, but we are actively seeking a great life long family home where he can continue to be loved and spoilt like he has been.
Email or call for more details.. we would like his new home to be local..we don't want to ship him if possible.