LAST UPDATED JAN 20TH 2022

WE HAVE PUPPIES READY NOW!


We have a NEW LITTER born Nov/27/2022!.
we have males and females if you act fast!

CH BYBEES LIL SUMPIN...ABA DOG OF THE YEAR!
X
GRAND CHAMPION SHARKY..ALSO DOG OF THE YEAR
These beautiful bully type pups are from a long line of multiple champions!
Photos coming soon....or just contact us to see whats still available ready for new homes soon...JAN 22nd 2022


All pups that leave us are up to date with vaccines (neotech), wormed, have been treated for coccidia prevention,vet checked and microchipped.
Limited reg (that means with no breeding rights..pet only)
We feed taste of the wild puppy.
Pups are priced at $2500/$3000.. shipping with a puppy nanny or by us is available to your local airport .


Our next breeding plans will be posted shortly,we have alot planned ..if you can't wait please message me or check us out on Instagram at BYBEES AMERICAN BULLDOGS

PLEASE READ..
Shipping.. Puppies must be picked up here in person or can be hand delivered by us.
..call for availability
YOU CAN SEE THESE AND OUR NEXT PLANNED BREEDINGS FOR LATER THIS YEAR ON OUR FUTURE BREEDINGS PAGE

CONTACT INFORMATION
Alison Bybee
Riverside,
California, 92504.

Tel. 951-361-2634 California time
Note..this is a land line so no texts please
The current time is:


When emailing us please tell us a bit about yourself
If you are emailing us to ask alot of general American Bulldog questions then it is better to just call us as I still type really slow!
e-mail
Bybeesambulls@aol.com



PLEASE READ...
We sell our American Bulldog puppies with limited reg. we do not sell with breeding rights...if you are someone looking to make an "investment" and to start breeding we are not for you we like our dogs to go to permanent forever family homes.
We do not have a lot of puppies..often there is along wait to get a puppy..quality not quantity is what we strive for.
We have a litter to improve on what we have top picks are NEVER available.
We like pups paid for IN FULL by 6 weeks at the latest(unless prior arrangements are made before 6 weeks).. This is so we know if we have cancellations
(IMPORTANT UPDATE) If pup is not paid for by then then your spot in making picks is moved behind those who have paid in full.
We recently made the mistake of letting folks pick and holding there pup till the family came to pick it up and pay for it in full then..they had a problem paying, couldn't take the pup and so we had to repost him for sale...this upset all the others folks behind the original buyer who would have taken this pup had we known he was available but had taken another. We felt bad and so doing it this way will prevent this happening again to all concerned.

Our pups sell for $2500 usually..they can $2500/3000 depending on the litter whether it is frozen semen and the litter can never be produced again and also what pick.....
On ALL males we retain 2 breeding's to our own females..it is unlikely that we will use them as we keep something from any litters we have but this is to ensure that we keep breeding only the best.
If we do not keep first pick it will ONLY be offered on a co-own basis..we will NOT automatically move you up to 1st pick spot, if we co-own a pick dog we like it to be local and with someone we feel can offer it a great family home and it will be still available to us to show.

The way we do picks is males and females are separate lists..a deposit is not for a spot on an overall list but for either the male OR female list...eg.We ALWAYS reserve first pick for our selves, if we decide not to keep a female here it does not mean you move up on the male list (or any list)..I hope this saves any confusion.


A non refundable retainer/deposit of $500 is required to hold your puppy.
..Deposits/retainers are non refundable..
We know sometimes people are unfortunately unable to take the puppy they had reserved..so we will however gladly move your deposit to one other similar litter of your choice should you cancel as a one time courtesy.
NOTE..we will only honor a deposit for the period of 24 months after receiving it should you cancel for whatever reason.. the deposit is considered expired/lost/void after this as we will have assumed you are no longer interested in getting a puppy from us.
So please be sure you are ready when you decide to get a puppy from us.


If you were unable to take a pup and have a deposit with us PLEASE keep in touch with us so we know you are still wanting a pup and when will be a better time frame for you within the allowed 24 months.

Also please note a pup/spot is not reserved UNLESS we have a deposit on it...things move along quickly here, one day a pup you wanted or a particular pick on a litter may be available and an hour later it may not be....


If you are abroad and looking for a pup please check out Ostergaards Kennel in Denmark below....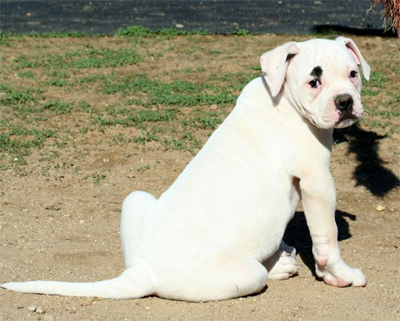 We accept payments by debit/credit cards through paypal/venmo or Zelle
We have added these quick links to PayPal to make it easier for those of you who are new to PayPal...
Paypal accepts credit and or debit cards
You can alternately go directly to the PayPal site www.paypal.com and make a payment of any amount using just our email bybeesambulls@aol.com

Some people have an easy time with Paypal others find it hard so alternately we can always send you our bank account info and you can just do a direct deposit..
$300 deposit or payment

$400 shipping or payment

$500 deposit or payment



call Alison or Randee
951 361 2634 Ca time (situated between LA and San Diego)
We welcome visitors but please note our dogs live in and at our house we are not a "kennel facility"..we are just some regular folks who have a passion for our American Bulldogs..
All of our dogs are our own personal family pets ..NO adults are for sale at any time so please don't ask...it would be like selling a family member!
Many of our dogs do not live here with us but with friends to ensure they get lots of attention and have a family of there own.
please email for availability
bybeesambulls@aol.com