LAST UPDATED OCTOBER 18TH 2023
Click here to see more about our amazing litter
from Grand Champion Gucci X Grand Champion Sharky
D.O.B. October 3rd 2023
28th Nov ready for new homes!

WELCOME TO OUR AMERICAN BULLDOG WEBSITE AND THANK YOU FOR VISITING...
We are producers of the best American Bulldogs you will find since 1990.
Located in Riverside, California.
We have the awards to back it up... multiple American Bulldog kennel, breeder and dog of the year awards from ABA (American Bulldog Association) and ABRA (American Bulldog Registry and Archives) the top registries in our breed.
Home of generations of Champions and Grand Champions all of which are the results of our 33 years of love and dedication to the breed.
We produce both Classic/Bully/Johnson and Hybrid type American Bulldogs we are known for producing larger,muscular dogs with a wow factor.

QUICK UPDATES...
2023's first show was the ABA Revolution show in AZ..
we nailed it!
We won all 3 Champion of Champion classes making Champion Gucci now an ABA Grand Champion.
Champion Voodoo finished her ABA Championship title and a leg towards her Grand Champion ship title.
Bybee/Hartleys Gunner won Best in Show American bulldog first show,
Best in show (over other breeds) 2nd show and a best of type 3rd show ( unconfirmed but were pretty sure he is now also a Champion)!

The last few years with covid really put a stop to American Bulldog shows so no 2022 year end awards but the shows are making a comeback and there's been 3 we have been able to attend so far in 2022 year.
Looking forward to getting back on track in 2023!

Last show of 2022 we finished Gucci,Jaeger and Tosh.2's American bulldog Association (ABA) Championships

Plus we got majors on Voodoo, Hobbs, Gunner and Rubyroo.

In 2019 we were ABA dog of the year with Ch Bybees Lil Sumpin (who won all 3 shows at the Nationals)

we also won puppy of the year with Ch Bybees Gucci..this helped us also win 2019 ABA Kennel of the year and 2019 ABA Breeder of the year.
In 2018 we won ABRA "Kennel of the Year" and "Show Dog of the Year"
Big shout out to Randee who made it his goal and did it!
Big thanks To Bybees Leonidas Sparks who won a total of 9 Best in Shows out of the 12 shows he went to!
Also Now Champion Bybees Biasi Ronin and Tony who completed there ABRA Championship (and ABA Grand Champion title) ..helping get those points for kennel of the year!

New Champion Bybees Tosh.2.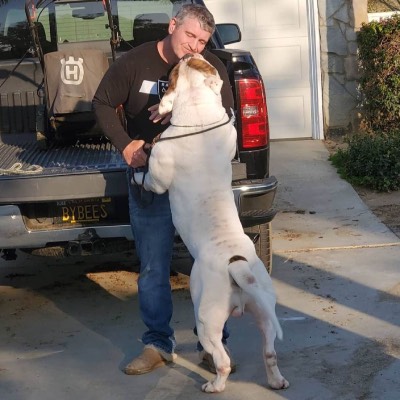 Bybee/Hartley Gunner winning another Best in Show
(Ch Gucci X Grand Ch Ronin)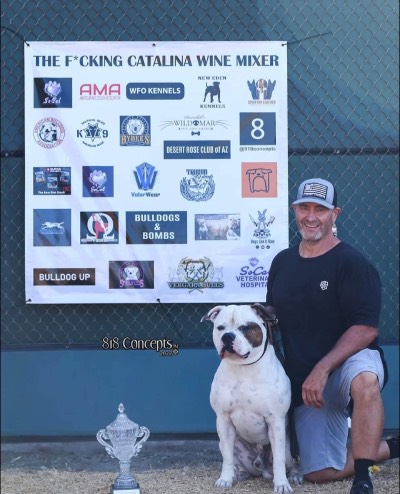 Bybee/Erales Hobbs also has his majors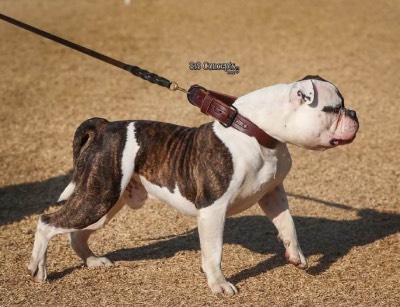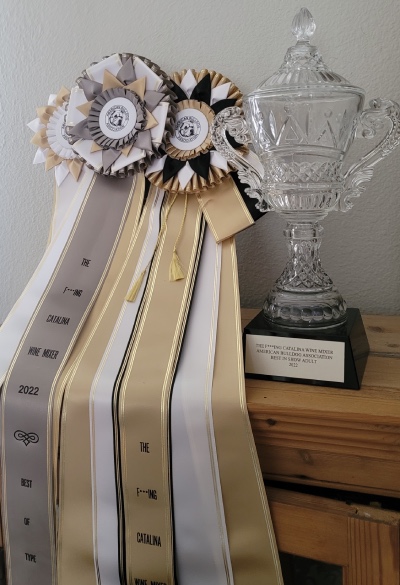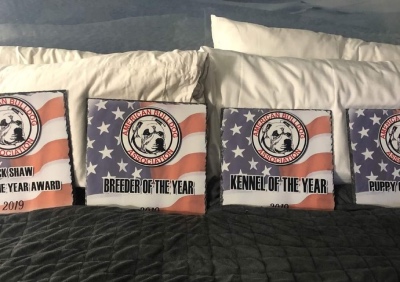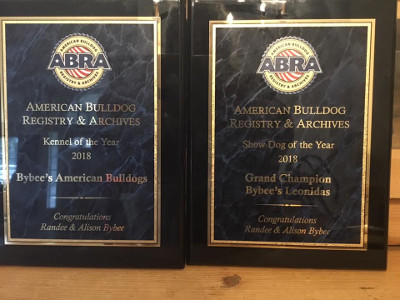 WE HAVE AMERICAN BULLDOG PUPPIES!
ABA GRAND CHAMPION GUCCI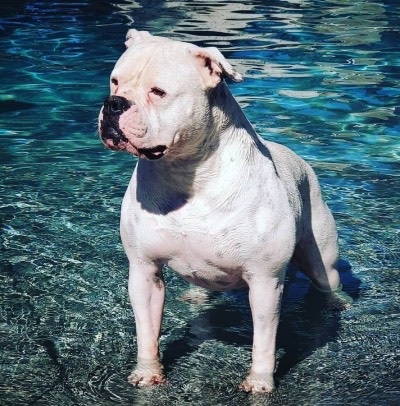 ABA GRAND CHAMPION SHARKY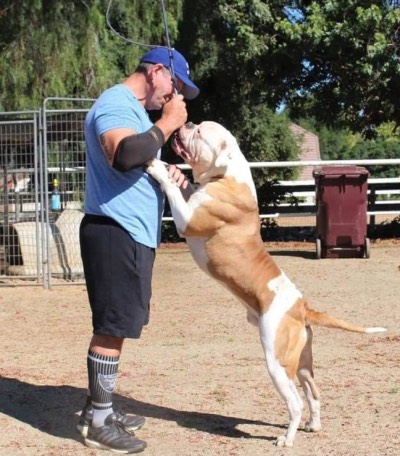 These pups come from a long,long line of our Champions and Grandchampions (both ABRA and ABA)

Puppies born Oct 3rd 2023..
These pups will be athletic and muscular hybrid types.
Both these dogs have produced amazing Grand Champions and Champions before so we are very excited about this litter!
Pet only (no breeding rights.. $2800/$3000 and of course approved homes only.

If you havent checked us out on instagram you may want to, I have started to update on there a bit more often. BYBEES AMERICAN BULLDOGS

contact us for more details and updated photos.

THE BILLIONAIRE BULLDOGS BASH
FEB 2018
WE STARTED OFF 2018 WITH A BANG!!
Randee took home ALL 4 of the BEST IN SHOW at the Billionaire Bulldogs Bash hosted by the LCA CLUB..
(note this is NOT our club lol)
with Champion Bybees Leo of Sparks.. ABRA CH, ABA GRAND CH..NCL/ ICH/OFA/CGC ..125lbs
Leo also won the weight pull..well he was trained by the great Omar Ross!
We also took home 2 Best in Show bully.. with Bybees Ronin Biasi and Bybees Bang..we didn't take any standards this time.
Thanks to the LCA for putting a great show on!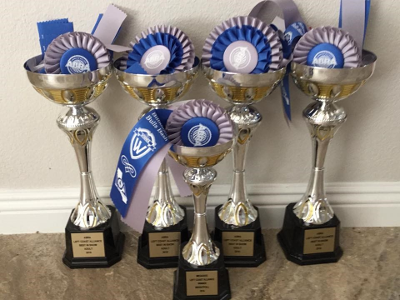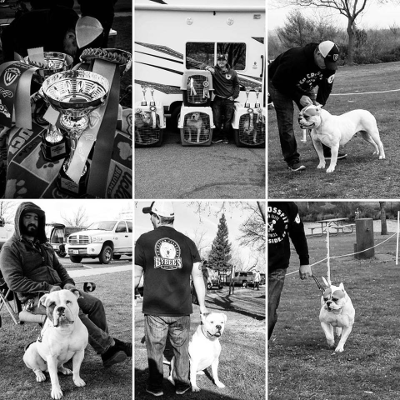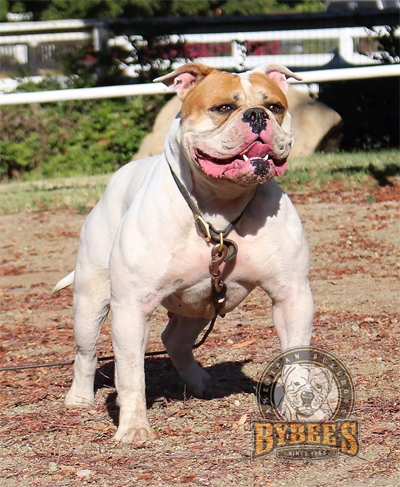 Congratulations to BYBEES FATTY BANG BANG for her ABA GRAND CH title.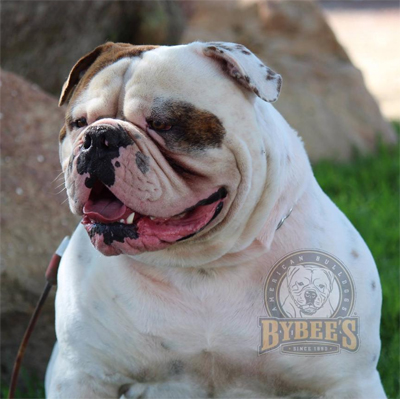 Introducing Bybee and Hicks Gordo

CHECK OUR PUPPY PAGE FOR AMERICAN BULLDOG PUPPIES FOR SALE NOW..OR CALL US

NEXT BREEDINGS.. 12/7/2022
Please check out our future breeding page or email me for updated plans

Our next breeding's will be bully type but we haven't decided what combination's yet.
We will be using Ch Sharky and Hobbs some time this year,I'd also like to break some frozen Chuy semen out..

CHECK OUT OUR Future breedings
CHECK OUT OUR OUR AMERICAN BULLDOG PUPPY PAGE

or contact us for availability.


CHECK OUR PUPPY PAGE FOR PUPS AVAILABLE NOW..