BETH | BETTY | BIG MOMMA | BJ | BODACIOUS | BONER | BOOSETTA | BRANDY | BUTTERCUP | CHAOS | FISHBONE | HAUS | KABANG | MAX | NITRO | PONY | RIPPY | SCOUT | BRUNO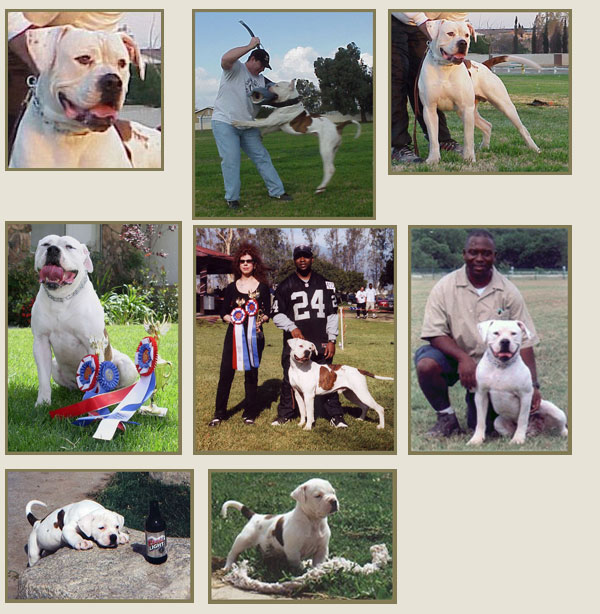 Click on pictures to enlarge
Apex's Maximus Steel of Bybee, 95lbs, prelim. good, C.G.C., C.D.2., SCH BH, multiple BIS
Max is co-owned by us and Paul Reedy
Max has passed his SCH B Hand is working towards his SCH1 title. He also has his C.D.2 and is working on his C.D.3.(catch dog title). Max has a great friendly temperament and is very outgoing and drivey..this is a dog that loves to work and also loves being taken to the shows.
At the Ca winter Classic A.B.A. show in January 2003 Max got Bis male and Best in show overall standard class, this was his first time being shown as an adult. Also at the Ca 2004 show he got another BIS. We are going to start showing Max again to finish his ABA Ch he already has his majors which is the hard part! Max went onto get another Bis M at Vegas that same year.
Max is a result of several generations of our dogs, his parents being A.B.A. Champion Bybee's Fishbone and A.B.A. Champion Bybee's Bodacious.
Max is a full littermate to ABA Ch Bybees Willow and 1/2 brother to ABA CH G.W's MR Bruno of Bybee and Letholts Beth multiple BIS (who is well on her way to becoming a Ch as well) We are expecting even more great things from Max (and Paul) in the future!